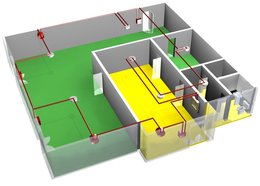 This section contains some general information on fire alarm systems, device types as well as the relevant standards and installation codes of practise.
System Types
There are various types of fire alarm system available for setection and the most suitable should be choosen for your application.
Standards and Codes Of Practise
There are many standards and codes of practise that are applicable to all aspects of the
fire alarm system and its installation. These cover
everything from the preformance criteria of the
equipment to the design, installation and
commissiong of each individual system.